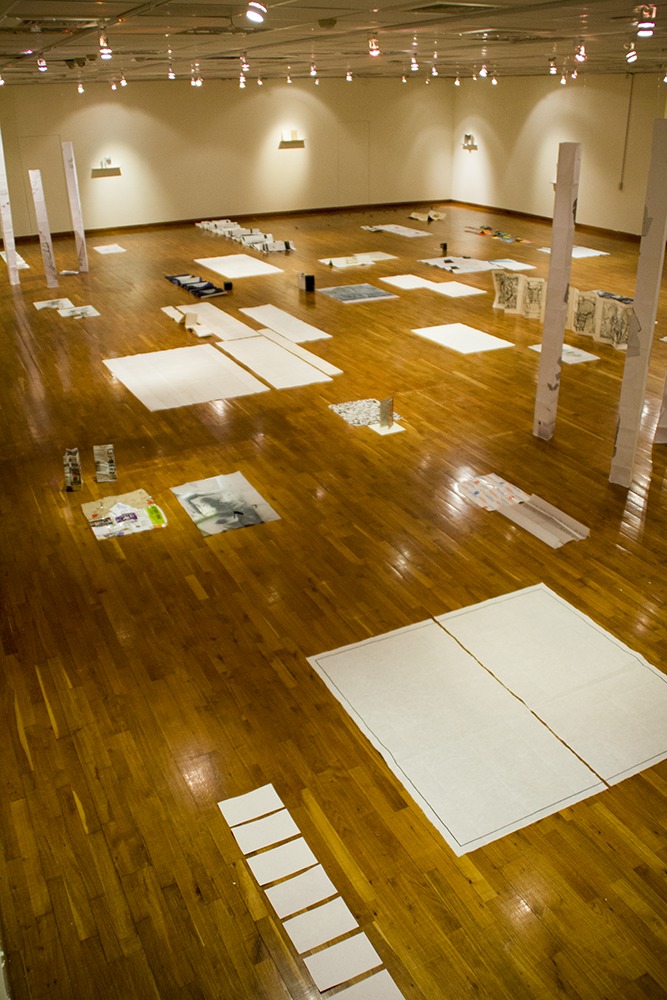 Douple Lip
As part of a dual exhibition by Elizabeth Black and Bobby Benjamin as part of Dovetail Joints and Disgraceland, Baker Street.
Included herein are large scale paintings on canvas and board. A live spoken word event was performed on the night. Details to follow about future events in this space.
Roots and Wings
'Art Academia' - A banner as a conversation starter.

Exhibited as part of the 'Roots and Wings' exhibition at House of Blah Blah, Middlesbrough.
I Remember Most What Never Happened
Masters Graduate Show. Baltic 39 (2017)
No Room For Poetry
Interactive Spoken Word Event, GAL Studios, Nottingham. (2017)
Photo Credit: Rachel Parry
Trojan Sushi: Install & Performance
Vane Gallery: Spoken Performance
After the fire Public Programmes
Public Programmes designed and curated by Elizabeth Black. Herein is a selection of documents from the events. Further details can be found at: afterthefireweb.wordpress.com
MONDAY 12TH - FRIDAY 16TH DECEMBER 2016
ARTWALK // LECTURES // CONFERENCE // PSYCHO-GEOGRAPHY WORKSHOP // EXHIBITION TOURS & GALLERY VISIT // REFLECT & RESPOND: INTERVENTION // FILM SCREENINGS
Translation is Hard
Press Release for Translation is Hard (Group exhibition):
Translation is Hard / Översättning är Svårt / Traduir és difícil

Emelie Markgren (Swedish Artist)
EM: "Should I say something about medias or techniques or what I've done?" [EM sees EB typing]"No, no, that was just a question for you? Oh, no."[EM laughs]
EB: It can be anything – something throwaway
EM: Then I see…
EB: You could say something about this piece...
EM: Its just that I'm not good in English, it's just so hard, and strange words. It is hard.
EB: So lets do this in Swedish.
EM: "Jag jobbar med handlingar, skeenden, användningsområden och vardagliga utföranden. Människans val att använda sig av redskap, material och resurser i vardagen, diska, tvätta, träna spela luffarschack... Vilka fenomen värdesätter vi?"
Joana Gil (Catalan artist) "I like maps. I'm usually working with maps, and my current project is about being in a place that doesn't exist. Or just mapping these non-places." // "M'agraden els mapes. Normalment treballo amb mapes, i el projecte amb el que treballo ara mateix és sobre ser en un lloc que no existeix. O tan sols crear mapes d'aquests no-llocs."
Sebastian Rudolph Jensen (Swedish artist) Come and discover or re-familiarize yourself with this elusive artist! / Jag vet att många av er måste undra vem den här ökanda person är, vad är det med all publicitet... Så kom och utforska honom eller återupptäck den här flyktiga konstnären!
Elizabeth Black (British artist, curator) Artist-curator and studio holder: Imperial language speaker, in ongoing existential crisis: Cringing constantly at the sound of her own voice and at the pretension of the third person.
Slow Show, No Show
Installation: Process outcome of Durational Performance. (12 hour shifts over 10 days.)

Picture Credit: Colin Davidson (2016)
Casting Call
Still from Video Shoot: Collaborative Project with Actors, Comedians, and Performance Artists. Northumbria Photographic Studio. In Production: Commenced 2016.
Living Room
Living Room, Group Exhibition, Baltic 39. (2016)
Physical Interventions
A Reading/Reading [of] the Art, Baltic 39, (2015)
At points they were graceful and dwarfed by the big hollow place, paying their compliments to the work and reverence for the space. At other times they provoked with stares, and protruded with elbows, so that jagged edges intentionally showed; taking up too much space. The others watched on, quiet and mostly sincere, each of them orchestrating poetics of the space.
Love, Letters, Death, and Decay.
As part of a group exhibition: RE:Fold, exhibited in the International Exhibition Hall, University of Taiwan

Love, Letters, Death, and Decay (2015)
Handmade scented paper from foraged berries - the process through which heritage and bereavement was explored in complimentary spoken word performances in both the public domain and intimate gallery spaces to select audiences.